Cable Protector Hydraulic Pneumatic Tools
Product Detail
Product Tags
Hydraulic Pneumatic Tools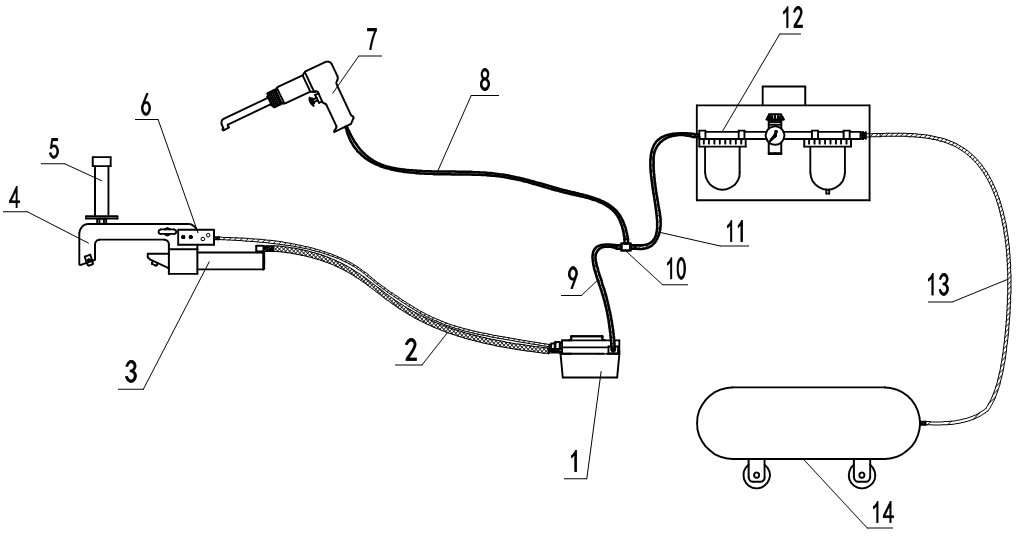 | | | | | | |
| --- | --- | --- | --- | --- | --- |
| Item No. | Name | Number | Item No. | Name | Number |
| 1 | Pneumatic hydraulic pump | 1 | 8 | 4600mm air tube assembly | 1 |
| 2 | 2000mm tube assembly | 1 | 9 | 3400mm air tube assembly | 1 |
| 3 | 5-ton cylinder | 1 | 10 | Tee-fitting assembly | 1 |
| 4 | C-type chuck | 1 | 11 | 4000mm air tube assembly | 1 |
| 5 | Handle | 1 | 12 | Triplet | 1 |
| 6 | Pneumatic control assembly | 1 | 13 | 1500mm air tube assembly | 1 |
| 7 | Air hammer | 1 | 14 | Air supply | 1 |
Pneumatic hydraulic tools are equipment specifically designed to quickly install and remove cable protectors. Their operation and functionality depend on the collaboration of multiple important components. The main components include air supply system, hydraulic pump, triplet, pneumatic actuator, hydraulic actuator, pipeline system, and safety protection device.
Air supply is the key source of energy required for tools, and hydraulic pumps provide stable hydraulic pressure support for hydraulic actuators. The triple unit purifies and filters the air source and stabilizes the pressure of the air source, thereby making the entire tool more efficient and accurate in operation. The pneumatic actuator uses a pneumatic hammer driven by compressed air to complete various actions, while the hydraulic actuator uses liquid pressure transmission to achieve the clamping operation of the C-shaped holder assembly . The pipeline system connects various parts and transmits air source, hydraulic pressure, etc. to corresponding parts.
Each component of a pneumatic hydraulic tool plays an important role. These components cooperate with each other to ensure the efficiency and accuracy of the tool, and can quickly complete the installation and disassembly tasks of cable protectors.
---
---